A few weeks ago, I finally received the HiFive Unmatched from SiFive as a flagship RISC-V development board. As a reminder, this is their mini-ITX development board powered by their U740 SoC and equipped with 16 GB of DDR4 system memory, a PCI Express x16 slot that can work with AMD Radeon graphics cards under Linux and other features. It was a pleasure to play with this development platform and attached you will find some early benchmarks showing the performance of the U740 as well as the evolution of Linux software support / performance.
The SiFive HiFive Unmatched is what many developers and enthusiasts have long been waiting for and started shipping this summer after being announced late last year. The mini-ITX card is powered by a 24 pin ATX power connection, the PCI Express x16 slot (at PCIe x8 speeds) can power a graphics card if you want to use this card as a workstation, 16 GB DDR4 is sufficient for most of today's development needs, there's built-in Gigabit Ethernet, support for microSD and NVMe M.2 storage, an M.2 dongle slot for WiFi / Bluetooth and four ports USB 3.2 Gen1.
The SiFive FU740 SoC that powers this development board has four SiFive U74 cores with one SiFive S7 core.
The HiFive Unmatched is a very good card for those who want to get acquainted with the early work of RISC-V development and other updates for this very promising ISA. The HiFive Unmatched is priced at $ 665, which certainly isn't on par with the Raspberry Pi price tag, but not too bad either given the limited production and specs of this board. Hopefully, over time, SiFive will be able to produce a map optimized for those who want to experiment with RISC-V on a larger budget.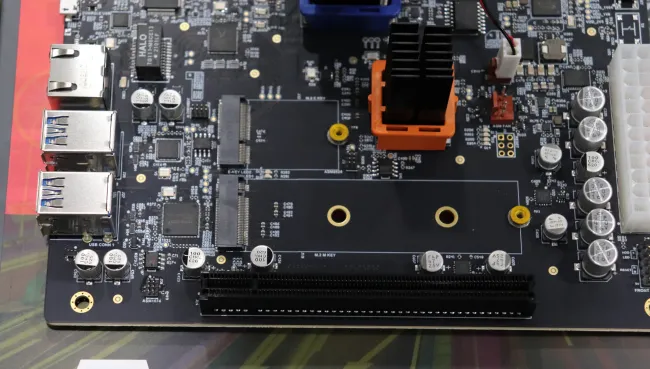 For those who are wondering about the PCI Express 3.0 x16 slot, it is limited to x8 lanes but can drive a graphics card. SiFive's documentation lists the Radeon HD 6000 series (not to be confused with the current RX 600000 series) and RX 500 (Polaris) series as supported. AMD's open source Linux graphics driver stack allows it to be built for RISC-V, but various ISA quirks with the driver seem to be what limit the range of graphics cards supported by the AMDGPU driver on the HiFive Unmatched. Trying a Radeon RX 5000 series Navi graphics card gave no working display, but opting for a Radeon RX 580 graphics card and an older Radeon HD 6770 graphics card worked without a problem. NVIDIA graphics are obviously not supported until they release a Linux RISC-V driver.
As well as having to be aware of the caveats about GPU support if you want to use a display with the HiFive Unmatched, the experience was quite pleasant and easy going for RISC-V races.